Dagashi
(駄菓子) are cheap candies or snacks which can be bought at 5-10 yen (¥). The word is derived from the Japanese words 'da' ("futile" or "negligible") and 'kashi' (cheap snack foods).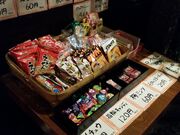 It started in the Edo period (1603–1868) where expensive types of candy, made with white sugar, were called jōgashi. In contrast, dagashi, cheaper candies made from coarse grain or starch, are consumed by the common people. After World War II, modern dagashi are created and people still eat them today.[1] However after the 1980s, the dagashiyas tried to sell different products and being are replaced by convenience stores. As of 2016, dagashi can still be found in dagashiya or ordered online. Culture expos in Japan (especially for schools) sometimes include dagashi and dagashiya displays.
Dagashiya
Edit
Dagashiya (駄菓子屋) are the original stores that sell dagashi. Besides dagashi, it may sell other treats or small toys and may have coin-operated or arcade-style games. After school, children often stopped by a dagashiya to purchase the cheap snacks and socialize with each other and the shop owners. Though in decline due to convenience stores, dagashiya can still be found in Japan, with around 50 in Tokyo. One example of a Dagashiya is the Shikada Dagashi.
List of Dagashi
Edit
References
Edit